Chilean Taxes
The principal taxes in this matter are; the Income Tax (named as first category tax), Additional Tax and the Specific Tax on Mining Activity (known as Royalty).
First Category Tax:
It is a flat proportional tax (17%) -It will be up to 20% for two years because of the earthquake-. This tax is charged over the company profits during the year.
Taxpayers are allowed to deduct from their gross income the direct costs necessary to obtain their actual taxable income. Direct costs from products purchased in Chile purchase price included. Products imported into Chile including their CIF (Cost, Insurance and Freight) value, custom duties paid, expenses incurred to nationalize products. Products manufactured by the taxpayer include raw material and direct employment costs.
Tax deductible expenses:
An expense is tax-deductible when it is necessary to produce the tax-payer´s taxable income. An expense is deemed to be necessary when: i) it is mandatory and inevitable to produce taxable income; ii) it is related to the tax-payer´s line of business; iii) the expense was paid or is owed; and iv) is must be fully evidenced to the SII (Internal Taxes Service).
Few relevant tax deductible expenses:
- Tax losses originated from the tax-payer´s activities.
- Annual depreciation installments of the company.
- Start-up and organizational expenses.
- Royalties paid abroad are deductible.
(There is a big list of what expenses are considered deductible in the law).
Additional Tax:
Individuals and legal entities that are not resident or domiciled in Chile are taxed on any income derived from Chilean sources. The general rate of additional tax is 35%.
Dividends, withdrawals and/or remittance of profits from Chile by public companies limited by shares (S.A), companies with share capital (SpA), private companies formed by partners (S.R.L) or permanent establishments are taxed at the general additional tax rate of 35%.
Something that is interesting is that the First Category Tax that the company has paid is fully deductible of the Additional Tax.
Specific Tax on Mining Activity:
This tax is charged on operational income derived from mining activity obtained by a mining exploiter.
Mining exploiters whose annual sales exceed the equivalent of the value of 50,000 metric tons of fine copper pay a proportional 5% to 14% tax rate. In other cases it ranges between 0% and 4,5%.
The mining exploiters whose annual sales are inferior to 12,000 metric tons of fine copper do not pay this tax.
The value of a metric ton of fine copper is calculated according to the average value at the London Metal Exchange (LME).
The operational income of the mining activity is calculated following the rules established by law. They consist of adding or deducting amounts or items from the First Category Tax Base that the mining activity tax law contemplates.
Example using Company A and Company B: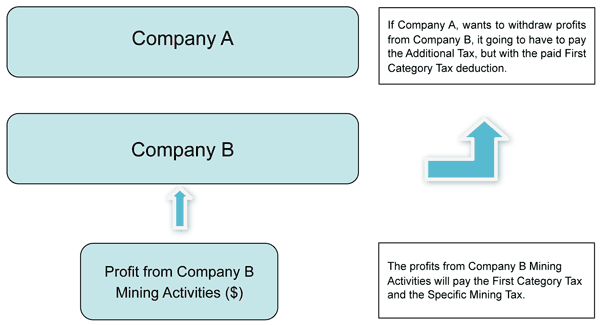 So, this is an overview of how does Company B and Company A taxes will work according Chilean laws, I hope this information was useful.
Alfredo Tapia Orezzoli - Lawyer, Prenafeta & Asociados